I sometimes find it hard to believe that I started Invisalign treatment nearly a month ago! The aligners have been really comfortable to wear and I must admit, some days I even forget that I'm wearing them. I really can't thank my dentist enough for all of his help and advice about this treatment.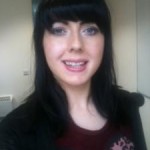 There have been occasions when I've had to stop myself from sipping on a really hot drink as I've had to remind myself that my Invisalign aligners are in. It's so easily done! I've been wearing this second set for roughly 11 days now and whilst I haven't noticed any changes from last week, I have noticed that the overall alignment of my teeth is looking a little straighter. When I go to close my mouth for example, my top teeth seem to be more in line with the bottom set.
Let's compare from before I started: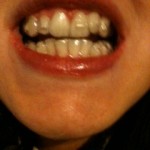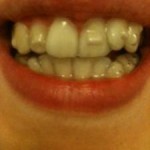 It's probably quite difficult to tell any changes from the two pictures, but that is the kind of progress I am seeing so far.
Another thing I have noticed is that when I took them off at lunch one day this week, my jaw felt rather odd. I've had problems in the past with a clicking jaw, but this time it felt like my jaw was slightly at an angle and I wondered if the Invisalign had caused this or was repositioning the jaw in some way.
I have heard stories of Invisalign repositioning people's jaw and that this can happen due to the aligners not allowing teeth to touch, as teeth naturally guide the jaw into position. So perhaps this is what I was experiencing. If I notice any further signs of this, I will be sure to inform my dentist.
I've had no problems with asking for any dental advice. I go to the Liverpool Dental Spa for my Invisalign treatment and their expertise truly marks them out as forerunners in the field of cosmetic dentistry. If I have any questions or problems Marius and the rest of the LDS team are always there to provide thorough answers and talk me through a number of possible solutions.
I'm so excited, soon I start on my third set of trays, so I'll be sure to keep you posted!
~Anna